9 tags
What You Might Have Missed: Week of May 13
Here are some great blog posts and videos that you might have missed this past week. Enjoy! Blog Posts Ancestry.com AncestryDNA honors moms this Mother's Day with a DNA test that's for women too  Finding Moms and Grandmoms in the Family Tree  Jackie Robinson, Big Man on Any Campus Ancestry Reference Desk Search Tips: Location Filters Newspapers.com Best Strategies: Clippings...
7 tags
What You Might Have Missed: Week of May 6
Here are some great blog posts and videos that you might have missed this past week. Enjoy! Blog Posts Ancestry.com Ancestry iOS App Gets Pedigree View and Photo Hints Don't Miss Ancestry Day Las Vegas on May 11th The Great, Great, Great Grand Adventure: Lobster and Maple Syrup Ask Ancestry Anne: Finding Women Who Have Vanished Into Thin Air Ancestry Reference Desk Creating Memorial Pages on...
5 tags
What You Might Have Missed: April 19
Here are some great articles and videos you might have missed this past week.  Enjoy! Blog Posts Ancestry.com AncestryDNA and Katie Couric bring birth mother and son together – 41 years later Ancestry Reference Desk It's Library Week Search Tips: City Directories Civil War Unit Histories: Finding the Details for the Story Newspapers.com Strategies for Searching on...
8 tags
What You May Have Missed: April 15th edition
Over the last two weeks, there has been a lot of great articles and videos available from the Ancestry.com world. Here is what you might have missed. Articles Ancestry.com Blog Ask Ancestry Anne: Did My Ancestor Sign the Declaration of Independence? RootsTech 2013 with Ancestry.com Ancestry Day: Las Vegas! 100,000,000 Records Keyed Fold3 Confederate Civil War Records Free on Fold3 in...
6 tags
In Case You Missed It: Week ending March 31st
Interesting posts and videos you might have missed around the Ancestry.com world this week: Ancestry.com Blog The latest installment of new AncestryDNA features Archives.com Blog Archives.com Publishes Millions of Lutheran Church Records Videos from the Barefoot Genealogist: Ancestry.com Quick Links and Other Tools Video from Amy Johnson Crow Going to the Chapel: Getting the Most Out...
2 tags
Your Story: 1930 Census Helps Reunite Family with...
My father died in Orlando, Florida, in 2004 and was buried on his 89th birthday.  His widow, my stepmother, passed away eight years later.  As her four children began cleaning out our parents' home, they discovered photos and an album they did not recognize.  They handed their finds off to me since I am the family historian and it was assumed that since none of them knew the people in the photos,...
4 tags
Ancestry Reference Desk: Grow Your Research Skills
Do you use Ancestry.com or Fold3 in the library? Are you looking for How To articles and videos to help restart or expand your research? Would you like some pointers on how to get the most out of records and images you find in your research? Check our new Ancestry Reference Desk. You can also follow us on facebook: https://www.facebook.com/AncestryReferenceDesk or twitter:...
2 tags
Ask Ancestry Anne: Who were Silas Allington's...
Question: I have connected with several other members of Ancestry.com to try and find more about my husband's great great-grandfather, Silas Allington. We all have the date of his birth, January 26, 1850 (we think in New York), and the date of his death, March 15, 1897, in Chillicothe, Illinois. We all agree that he was married to Emeline Potter. This is all documented on his grave stone....
3 tags
Ask Ancestry Anne: It's Time for Wedding Bells!
Women's History Month continues. Today's prompt: Do you have marriage records for your grandparents or great-grandparents? Write a post about where they were married and when. Any family stories about the wedding day? Post a photo too if you have one. I'm pretty sure this is a photo taken about the time of my great grandparents wedding.  Wyatt Paul Gillespie and Laura Cecile Donald were...
Ask Ancestry Anne: Some Inspirational Quotes to...
Courtesy of Archives.com
2 tags
Ask Ancestry Anne: Who Were You Named For? Or Use...
Women's history month continues.  Today's prompt: Do you share a first name with one of your female ancestors? Perhaps you were named for your great-grandmother, or your name follows a particular naming pattern. If not, then list the most unique or unusual female first name you've come across in your family tree. I am Anne Elizabeth,  and I was named for both my grandmothers, Ann...
Ask Ancestry Anne: How did they meet?
Women's History Month continues. Today's prompt: How did they meet? You've documented marriages, now, go back a bit. Do you know the story of how your parents met? Your grandparents? You know, I don't. Sad to say.   I do know the story, well maybe the myth, of how my Aunt Martha and Uncle David met.  According to family legend, she was a drum majorette, which is true, and he saw her...
4 tags
Ask Ancestry Anne: Do You Have A Photo of A...
Women's History Month continues. Today's prompt: Post a photo of one of your female ancestors. Who is in the photo? When was it taken? Why did you select this photo? For me that's easy.  I have this great picture of my Great Grandmother Laura Cecile Gillespie Donald with her dog.  You can read about in Wisdom Wednesday — Granny's Dog (OK, it's not my...
4 tags
Ask Ancestry Anne: You Didn't Ask, But It's...
It's Women's History Month, and it's time to explore the "fairer side" of our family tree. Lisa Azlo, who writes the blog The Accidental Genealogist, has written a series of blogging prompts for the month, and maybe it will inspire us to dig a little deeper in our trees.   To play along, post a url to a blog post you've written, or reminiscence in the...
3 tags
Ask Ancestry Anne: How is Cousin Bait Working for...
I did a Livestream,  Cousin Bait: Blogging to Find Your Family in January.  The video and slides are available if you are interested. I was fortunate to make a connection, not with a cousin, but with a lovely lady, Martha, who went to high school with my father. She sent me relevant yearbook pages for both my father and my grandfather.  My grandfather is in the upper left corner: Most...
4 tags
Ask Ancestry Anne: Where is The Source Citation...
On a few of our census records, the source citation information was inadvertently turned on the "record page."  We are in the process of getting those back on the record page. In the meantime, you can find the information on the image page, on the source panel.  To see the source panel, first go to the image, and open the panel by click on the grey arrow on the right hand side. ...
3 tags
Ask Ancestry Anne: I'm Bored! Give Me Something...
It's Friday. You are at work.  Your mind is wandering.  Work is not keeping you focused. (Don't worry, I won't tell.) You can't drag out your own genealogy.  Maybe you could sneak a peak at a few genealogy blogs and get inspired. Thomas MacEntee who runs the ever popular Geneabloggers sponsors daily blogging prompts to inspire those who write blogs. For example, today is...
4 tags
Ask Ancestry Anne: Want to Learn Something New?
Looking to learn more about how to use Ancestry.com?  Check out our Tuesday and Thursday livestream presentations.  And if you can't view them when we do the original presentation, catch the video later.  Here's how. Signing up for events Go to the Ancestry.com face book page: https://www.facebook.com/Ancestry.com Click on the arrow: This will expand that area.  Now you can...
4 tags
Ask Ancestry Anne: How Do I Rename a Tree on...
Question: Cecile St. John sent in a question about syncing trees and changing trees names.  In short, she is wondering why if she changes the name on her Family Tree Maker 2012 tree and syncs it, why doesn't it change on the Ancestry.com site.  And how does she change it? Answer: In short, I don't know why it doesn't update. :-) But I do know how to change it!  One of my trees...
3 tags
Ask Ancestry Anne: How Can I Remove the Country...
Question: How do you configure FTM 2012 so that it does not show "USA" in the place names? — Livestream Viewer Answer: When you are in Family Tree Maker 2012, you start by selecting Tools and then Options In the bottom right hand corner, you will see the Place Options section: Make sure that you have a check next to "Check place authority when entering place...
3 tags
Ask Ancestry Anne: What Should I Do With A Census...
Question: I found my family in the 1940 Census, but I'm not sure what to do now. Is there something else I should be looking for? — Jo Anna Worthington Answer:  Finding the record is only part of the game. The next step is to figure out how to use the information in it. I'll use George J. Hickman's family from the 1940 census as our example. Step 1.  Learn everything you can from the...
5 tags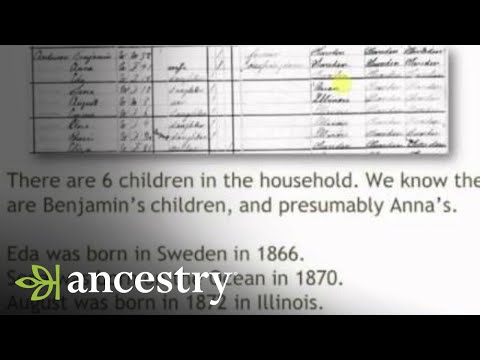 4 tags
Ask Ancestry Anne: How do I build a Family Census...
OK, this wasn't a specific question, but inspired by reading the comments of my previous article: Are These The Same People? In that post, I built what I call a Family Census Table that I used to determine who was in the family and when. Maybe it will be useful to do a few examples of what you might include, and also talk about what you can do with the information once you've...
3 tags
Overcoming Surname Changes
I have worked diligently searching my family's history for over ten years.  I joined Ancestry in 2006 and began a more serious search.  On my father's side of the family his roots were in Milledgeville, Georgia.  I knew that there was woman who had four children by William Steele.  There were stories of her being Native American, a mulatto, or a slave.  We thought her name was Mandy. ...
6 tags
Ask Ancestry Anne: Are These The Same People?
Question: I have built my family tree on ancestry.com and figured out my great great grandfather's father was John Logan. I found the family on censuses from 1850 through 1880, the last census surviving before John's death in 1880. All of the censuses list John's occupation as a farmer. However, I was recently going through my grandfather's family heirlooms and found an...
4 tags
Ancestry.com and the Luck of the Irish
My name is Tom McNamara. My paternal grandparents passed away when I was young, and my father never talked about his ancestors other than they had emigrated from County Clare Ireland during the potato famine. My wife and I were planning a trip to Ireland so I joined Ancestry.com to find my roots. With the help of census records, passenger lists, and family trees, I was able to discover that my...
3 tags
Ask Ancestry Anne: Cousin Bait Blogging to Find...
It's a New Year and I know you may have a genealogy resolution or two on your plate. Maybe you should consider blogging?  Or restart a blog you've let lapse? Check out my Livestream presentation Cousin Bait: Blogging to Find Your Family or the PDF of the presentation. My sample blog from the presentation is at cousinbaitforgenealogist.blogspot.com I will also recommend a couple of...
3 tags
Your Story: Tip Brings Long-lost Answers
Growing up in Illinois, my family's origins were almost invisible. I knew the names of my grandparents and great-grandparents, but I still wondered how we got here. I heard we came from Ireland or Germany or England, but those places seemed far off. In truth, it was like my family had sprung out of the ground in America, grilling burgers and going bowling. It was only after my grandma passed...
5 tags
Ask Ancestry Anne: How Do I Decipher Census...
Question: What do the numbers in column 30 in the 1910 census mean?  I have many relatives with different numbers in this column — Jackie Answer: Column 30 specifies whether the person owns (O) or rents (R) a home.  But I suspect that you are referring to numbers such as the ones written in on the right hand side. They look as if they are written in a different handwriting than the census...
4 tags
Finding Patti Page
As I was washing dishes the other day, strains of How Much is That Doggie in the Window came drifting into the kitchen from the living room. My husband was watching the news and they were sadly reporting that Patti Page, who made that song famous, had died. I must confess, I never really knew much about Patti Page. I didn't have any of her records growing up, but in the early 60s, that 1953...
3 tags
Ask Ancestry Anne: Copyright Information You Might...
One issue that plagues those of us who do genealogy whether you started today or you are a seasoned professional, is copyright.  What can you use? How do you attribute it to the creator?  How do you protect your own information?  What can you have a copyright on? I recently did a Livestream presentation Don't Get Caught in the Genealogy Cookie Jar about this topic. Today I read a blog post...
2 tags
"We see the Lady!"—Tales from the Immigrant...
The trip to America wasn't an easy one for many of our ancestors. There was seasickness, less than appetizing food, crowded conditions, and the fear that when they arrived they would be turned away. But it was a life-changing journey for millions of immigrants who passed through Ellis Island and other U.S. ports. Sometimes stories of that journey were passed on to family members, but too often...
12 tags
Nauvoo Blacksmith Shop - George Brown We had a...
4 tags
Surprise Connection through DNA
I wanted to let you know that I found my mother's first cousin thanks to AncestryDNA. My great-grandfather, Joseph Bubadias/Jose Cott, was always something of a mystery. We had a few details about him, but he was hard to track. When my DNA results came in, I got a match with Terry, who was listed as possibly my 3rd-4th cousin. As it turns out, Terry's father is my great-grandfather's...
6 tags
Ask Ancestry Anne: How Can I Find People in My...
Question: I have more than 750 people in my family tree and I want to link each one with a Find-A-Grave entry. I think it's important to know where they are buried because it adds a visual record. When I can identify a gravesite, I add its Find-A-Grave Memorial number in the "Burial Fact" in Ancestry.com. Is there a way to search my tree for entries with specific facts? I'd like to...
3 tags
Maps: A Path to Your Ancestors
Today I presented a Livestream event, Maps: A Path to Your Ancestors, which you can now view below or on the Ancestry.com YouTube page. Map Resources on Ancestry.com Search page http://search.ancestry.com/search/ Card Catalog http://search.ancestry.com/search/cardcatalog.aspx Maps, Atlases & Gazetteers http://search.ancestry.com/search/category.aspx?cat=44 U.S. Enumeration District...
9 tags
6 tags
Ancestry.com Great, Great, Great Grand Adventure:...
7 tags
Ancestry.com Great, Great, Great Grand Adventure:...
7 tags
3 tags
4 tags
Your Story: Answers from My Dad's Shipmate
My father, Simon Mostofsky, was killed in action shortly after D-Day. He was a pharmacist mate caring for the wounded on an LST on its way back to Britain. I never knew the name (actually it's a number) of the ship he was on, but for some reason I did know it had not been sunk.  In 2010, Ancestry.com sent me a hint for a record that led me to the National Personnel Record Center, Military...
10 tags
Ask Ancestry Anne: My Father Was in the Navy, But...
Question: My father, Matthew Gene Wietecha, served in the Navy in World War II. I have been unable to find out about his service because of the fire in the National Personnel Records Center in  which military files were destroyed. I do know that he served on the USS Evangeline. How can I find out information on his service for our country and about the attack of his ship?? — Doris Answer: ...
11 tags
Descending from Evil: The Story of Herman Webster...
On the surface Herman Webster Mudgett seemed to be a productive member of society. Born and raised in the small state of New Hampshire, Herman turned his fascination with the human body into a career when he graduated from the University of Michigan Medical School in 1884. Wealthy, well-educated and refined, the young doctor moved to Chicago where he became the owner of a drugstore, and...
10 tags
AncestryDNA: Now Available to Order Online
Great news, the new AncestryDNA test is available to order right now! Over the past several months, AncestryDNA was available by invitation only. We've sent out all of our invitations, and now the test is available to everyone—you're all invited! All you have to do is go to the AncestryDNA site, click the orange "Get AncestryDNA" button, and order your test. As a perk to our Ancestry.com...
8 tags
15 tags
13 tags
11 tags
9 tags
Win Screening Passes for NEW Steven Spielberg...
Attention Ancestry.com fans! We are collaborating with DreamWorks Pictures and Twentieth Century Fox's Lincoln, in theaters November 16, 2012. We will soon be announcing some exciting news in a few weeks, so sit tight. LINCOLN is in theaters November 9th, 2012 (Limited) and Nationwide November 16th, 2012. One Day - Advance Screening Pass Giveaway - Tuesday, October 9 In the meantime, we...